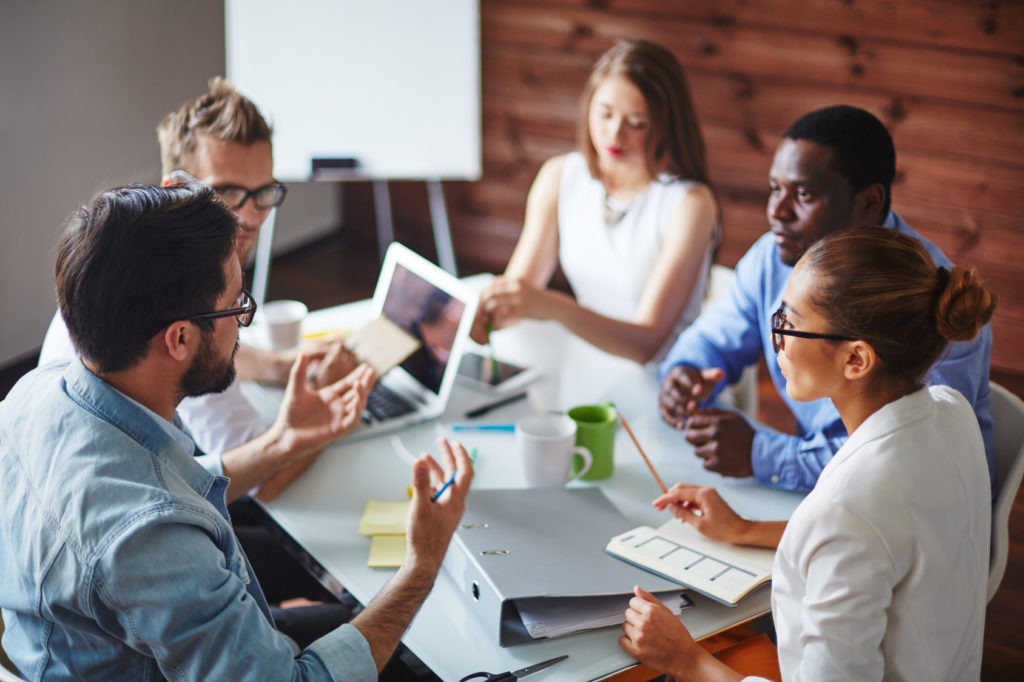 By Laura McLouglin 
Though wary of the limelight, introverts have never been so widely acknowledged as they are now. Since Susan Cain first brought the strengths and advantages of introversion in a noisy world with her bestselling book and viral Ted Talk in 2012, there have been countless studies into how this section of our population works.
Despite this, few industries truly value the introvert. Introverted CEOs may be statistically more successful, but are greatly underrepresented in leadership positions. And while introverted professionals may be equally or more skilled to their extroverted colleagues, it is the extroverts who consistently earn more.  Even the way the modern office works – open plan designs, frequent group brainstorming – makes it difficult for more reserved, thoughtful individuals to thrive.
This makes it especially important for introverts to be aware of their weaknesses, and turn them to strengths during these uncomfortable situations. Sitting out should be an option, regardless of how the playing field is tilted.
We've got five go-to tips for making sure that your introverted self is well-prepared for those situations when you may find yourself feeling a bit stretched as an introvert.
Prepare
Introverts work best when they have had time to process their thoughts. That means that when colleagues are passing half-formed ideas back and forth across the meeting room table with ease, you may find that you are unusually quiet.
Combat this problem by taking the time to plan ahead.
Before any meeting, use a notebook to outline what you want to achieve during your conversation. This can be as in depth as deciding on a solution for a long term problem, or as brief as remembering to ask a particular question. You may want to also pre-empt how your colleagues will reply, and think of answers to those imagined questions, too.
Jot it all down, with any research or key figures you may want to call upon, and then keep your notebook close during the meeting, too. This will help to keep you focused, and to prompt you to contribute, and to feel more confident in doing so.
Speak first
The beginning of a meeting can often be the best moment to share.
With the rest of your team still getting settled and warming up their brains, it's unlikely you will have to fight to get a word in or worry about being interrupted, and you will have also pointed the conversation in a direction you have already prepared for. Then, when additional comments and questions are thrown into the mix, you will have already processed your thoughts on the topic at hand, and you'll be able to answer more readily.
Speaking first, also, allows you to reflect more during the remainder of the meeting, as you will have made your mark with your opening words.
Ask questions instead of making statements
If you feel that direct statements and comments are too confrontational, you might consider getting your point across in a softer manner. Try posing your idea as a question instead, such as:
Have we already thought about extending our Christmas promotions?
Does anyone else think that the new design might be too off-brand?
It may not be the most direct way of making sure your voice is heard, but if it means that you speak up instead of staying silent, it's a tactic worth considering.
Use a notebook
We've already touched on how you might use your notebook to prepare for a meeting, but it's also worth having throughout a meeting. Instead of becoming frazzled with the quick conversation, channel your energy by jotting down the ideas and thoughts you hear from your colleagues. Many of us process information better when we are writing by hand, and slowing down the situation should help your introverted mind, too.
As an introvert, it can be difficult to do your best thinking in these types of loud or stimulating situations, but writing is said to help us focus better. This means less time being distracted and overwhelmed, and more time putting your mind to the task at hand.
Even if you do not get your point across this time, using a notebook means that you have the benefit of having a record of thoughts to review before your next meeting and make a point of voicing them early on.
Be reflective
Introverts are known for their thoughtfulness and keen reflective abilities, so bring that strength to the meeting room. As ideas are tossed out and different players offer their own take on the subject at hand, bring the conversation together, or better yet, pick out the elements you can see are missing.
Do you think we could bring those two solutions together?
We've talked a lot about our Facebook pages, but have we considered what's happening on our Instagram?
I think we can all agree the limited budget is an issue, but what can we do about it?
When it comes to the workplace, forget the idea that introversion is a weakness. Rather, allow yourself to be pushed out of your comfort zone and influence the meeting room in a way which is uniquely you, introversion included. After all, big voices aren't always the right voices, and the quieter ones are no less essential to the betterment of a company.
Laura McLoughlin is a self-confessed introvert, commonly mistaken for an extrovert. Having worked as a children's entertainer, face painter, web editor and PR, she can understand the confusion. She now writes for My Own Stationery.